Gram & Dun's Burnt Ends Mac and Cheese
Whether you're ready to play chef or just want to delight in a twist on two favorite comfort foods, you're in luck with this recipe, courtesy of local Country Club Plaza eatery Gram & Dun. Kansas City's famous burnt ends meet not-your-mother's macaroni and cheese to create a meal you'll whip out to impress guests.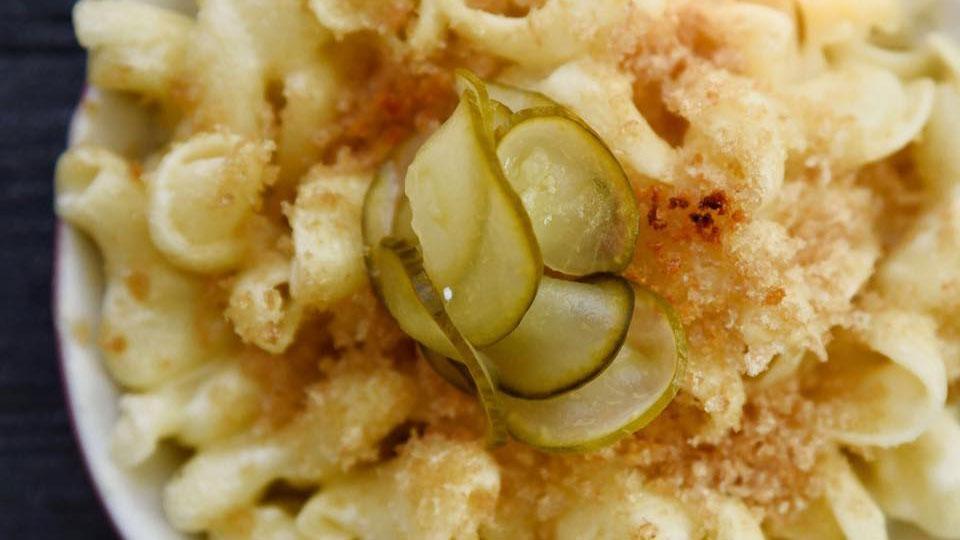 Recipe
Ingredients
8 ounces pasta noodles
4 ounces garlic cream (recipe below)
2 ounces heavy cream
2 ounces pecorino cheese
4 ounces burnt ends
1 ounce pork rinds, crushed
Instructions
Cook pasta according to package directions.
Drain pasta. Add garlic cream sauce and burnt ends.
Top with crushed pork rinds.
Garlic Cream (Small Batch – yields 1 qt.)
Ingredients
1 quart heavy cream
¼ cup minced garlic
¼ cup minced shallots
⅓ cup white wine
Garlic Cream Instructions
In a medium saucepan, sweat the garlic and shallots for 2 to 3 minutes in a few teaspoons of oil blend.
Add wine, and reduce until almost dry.
Once wine has reduced, add heavy cream and carefully bring to a boil over medium-high heat.
Reduce cream by at least half.
Pour liquid through a chinois.
Local Productions
Burnt Legend
Explore the history and mystery of the Kansas City delicacy known as Burnt Ends.