Interfaith Workshop Inspires Participants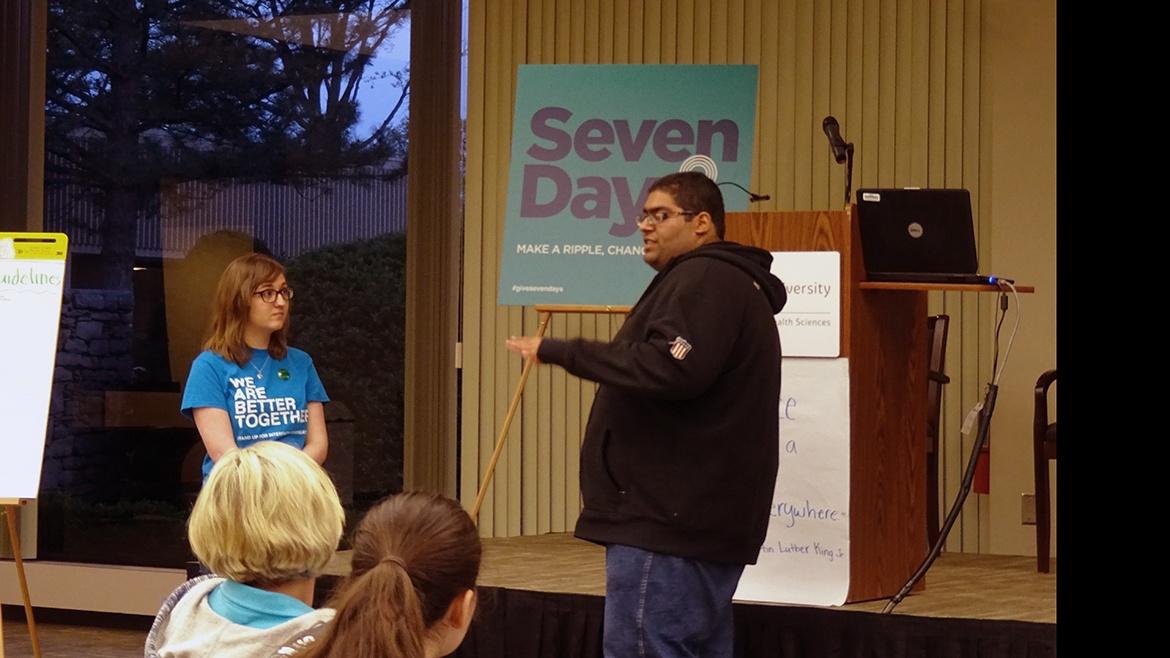 If the interfaith movement in Kansas City is to have a future beyond the current moment, it will depend on training and engaging young people, like the ones who turned out for a workshop Saturday presented by the Kansas City Interfaith Youth Alliance. The event was part of Seven Days: Make a Ripple. Change the World, the initiative started by Mindy Corporon after the April 2014 shooting at the Jewish Community Center in Leawood, Kansas.
The venue, a spacious room with a beautiful view at Cleveland Chiropractic College, was filled with high school and college students, as well as teachers and parents. Over a meal of plump rice with savory meat and peas (generously provided by the Dialogue Institute of the Southwest,) participants of varying religious and educational backgrounds shared their motivations behind committing to interfaith dialogue and pluralism.
The facilitators, Samantha Nichols and Tahil Sharma, who are both connected to Eboo Patel's Interfaith Youth Corps, shared their personal backgrounds and the ideas that animate their work.
Tahil shed light on his perspective as an "interfaith baby," having been raised in both the Hindu and Sikh traditions. The marginalization he experienced post-9/11 broke his illusion of safety, but also inspired him to take action as a healthy response to his own fear.
Samantha shared inspiring anecdotes describing how people of many belief systems encouraged her to nurture her relationship to her own faith as a Christian.
After walking through some guidelines for a healthy and respectful dialogue, participants conferred about everything from prayer to secular humanism. The evening ended with newly forged bonds, motivation and even tears among some.
Seven Days: Make a Ripple. Change the World will have a final event this Monday afternoon (April 18), a "Peace Walk" and celebration starting at the Jewish Community Center in Leawood and ending at the United Methodist Church of the Resurrection in Overland Park. Information about the walk can be found at the Seven Days website and registration will be open onsite through Monday afternoon.
KCPT's Beyond Belief has been a media sponsor of the SevenDays initiative in 2016. This post written by Beyond Belief community producer, Ayah Abdul-Rauf.