Beyond Belief: Religion in Kansas City
Documentary Explores Local Religious Activism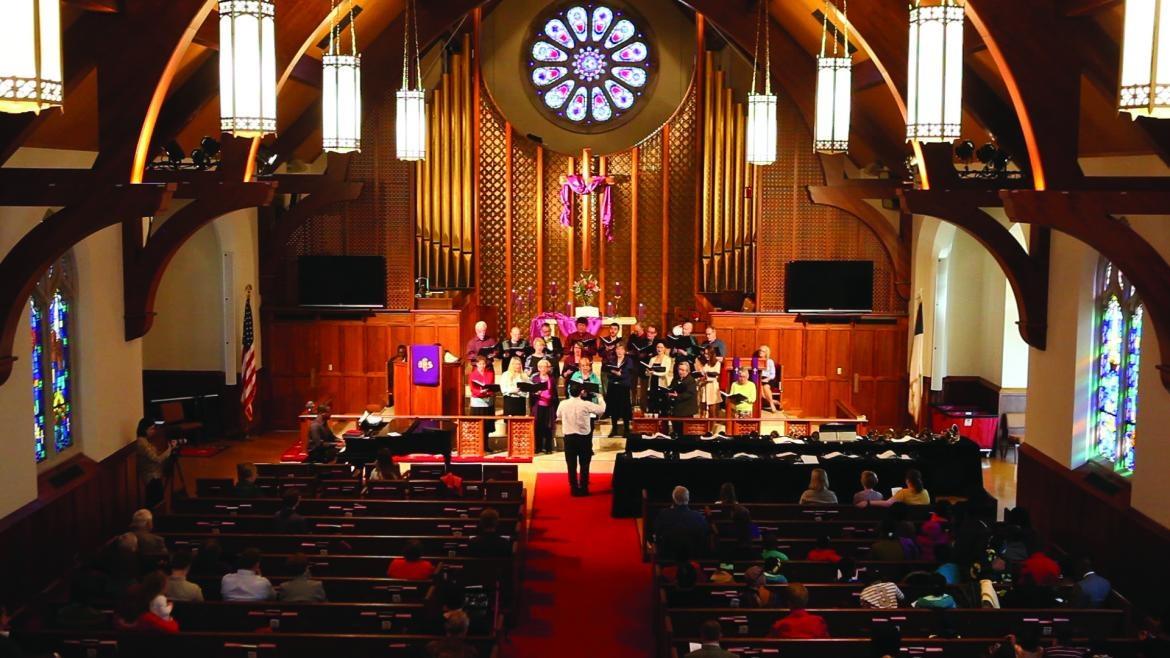 On Thursday, June 23, at 7:30 p.m., KCPT premieres its documentary Beyond Belief: Three Stories of Faith in Action. The half-hour film is part of a national initiative called Finding America (http://findingamerica.airmedia.org) aimed at shaking up public media in the United States by inviting communities to participate in telling their own stories.
The Beyond Belief project is an initiative of KCPT and AIR (The Association of Independents in Radio). It aims to understand how religion is central to life in Kansas City, looking at places where people of faith are tackling hard issues — like race, immigration, inequity and social justice. Since November 1, the nine-month-long project — funded by the Corporation for Public Broadcasting, several private foundations, and the National Endowment for the Arts — has been growing, creating, and connecting with communities of faith throughout Kansas City.
One of the documentary's three stories follows two local high schools — a public charter school in the city and a private school in the suburbs — that journey south together on the Civil Rights trail, with stops in Alabama, Georgia, and Tennessee. One school is Jewish, the other nondenominational; one nearly all white, the other nearly all black. The documentary explores what the groups learn about history, and what they learn from each other, that might point the way to healing Kansas City's racial divide.
Another segment visits a church just off Brookside Boulevard that has gone far beyond "nesting," a word congregations use to describe hosting a fledgling congregation of newcomers. Instead, Central United Methodist Church welcomes a growing group of refugees from Democratic Republic of Congo and other African nations, incorporating the kids into Sunday school, inviting the choir to perform every week, and conducting small portions of the main weekly service in Swahili. Both groups have faced challenges as the partnership has grown.
The third story focuses on a Kansas City, Kansas church that has gone even further toward inclusion. At Rick Behrens' Grandview Park Presbyterian Church, Sunday services are in English and Spanish: word by word, paragraph by paragraph, from Bible readings to songs to sermons. What does that mean to the people who come to church from the surrounding neighborhood or from miles away? This story is particularly relevant during a political season where undocumented immigrants have been threatened with being rousted from their homes and deported.
KCPT President and CEO Kliff Kuehl, who worked closely with the project, says Beyond Belief has shaped his own perspective. "It has been wonderful to get to know the faith community in KC," he says. "And the project has taught us as storytellers the value in getting to know the people behind the stories before we start publishing."
Beyond Belief producer Steve Mencher hopes the documentary helps open conversations about faith in Kansas City. "Tragically, with religious intolerance on everybody's mind once again, I hope people will see a connection between our work bringing people together across borders and boundaries of faith and the desperate need to heal our broken country," he says. "The video is filled with music and laughter. And it's meant to be shared and enjoyed by people of faith as well as those who check the 'none' box regarding religious affiliation. We believe that celebrating our diversity is the best way to counter the voices of intolerance."
For more information about Beyond Belief, visit kcpt.org/beyond-belief. Specific questions about the project can be sent to beyondbelief@kcpt.org. Viewers can track live responses to the documentary by following the hashtag #GoBeyondBelief.
Beyond Belief is part of Localore: Finding America, a national initiative produced by AIR, the Association of Independents in Radio, Incorporated, with financial support from the Corporation for Public Broadcasting, the Wyncote Foundation, the John D. and Catherine T. MacArthur Foundation, and the National Endowment for the Arts.